India is a country in South Asia, the seventh-largest country by area in the world. It is about 3,287,000 square kilometers. But India has the second-largest area of arable land in the world, which is one reason it can feed 1.4 billion people. So the valve market is very huge in this country.
There are 28 states and 8 Union territories in this country. Like Chandigarh, Delhi, Gujarat, Maharashtra, Tamil Nadu, etc. There are some data of valve business between India and China: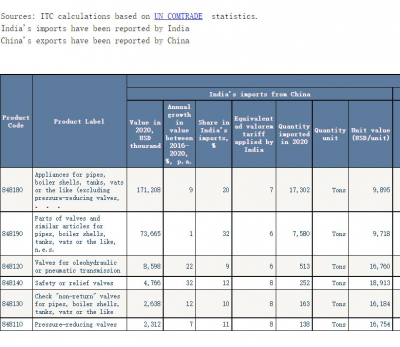 Note: The data is from UN COMTRADE( https://comtrade.un.org/)
You can see the valve products demands are increasing from 2016 to 2020, We consider gate valve and butterfly valves to account for a large proportion in this data. With the launch of India's infrastructure revitalization plan, more valve orders may fall to China in the future time.
About the valve industry, there are so many good manufacturers in India, let us introduce some valve companies as followed:
The above companies are some top valve manufacturers and suppliers in the Indian market, for more information please leave us the message(click here to contact us) or send us the email: info@davanflowtek.com